Editor
Editing for DataTables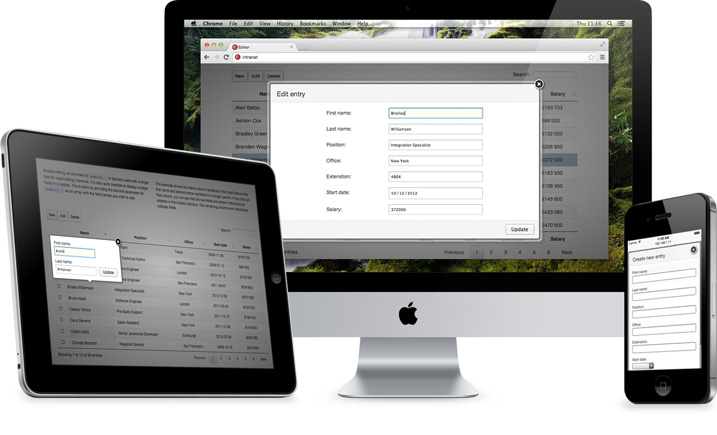 Create customised editable tables in minutes
Save time, do more!
As developers ourselves, we know how important it is to spend your timing crafting the code that you love into the perfect application for your users. Writing yet another CRUD application and then perfecting all of its little details can consume a huge amount of time, reducing grown developers to tears!
That's why Editor has been created. With Editor you can produce complex, fully editable tables, which take full advantage of the advanced features of DataTables in mere moments!
Free trial
Get up and running with Editor in minutes! To start a 15 day free trial, click the download button below and then follow the installation documentation.
Editing modes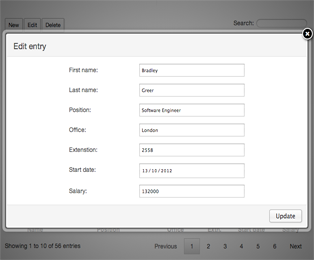 One size does not fit all and with Editor it doesn't have to. Editor has three editing modes built-in for you to select for your specific applications:
Full row editing - The entire row in a DataTable can easily be edited in Editor using the main editing interface. The form display can be fully customised using display controllers.
Bubble editing - A single field, or multiple fields can be edited very quickly in a bubble by simply clicking on the cell in the table to edit. You have full control over the form display, buttons and user interaction.
Inline editing - For simple fields nothing can be quicker than simply clicking on the cell, typing the changes you want and hitting return. All inside the DataTable cell!
Generator
Generator for Editor is a quick start tool that will produce everything you need to create a customised, fully editable DataTable. Simply tell it the names of the fields that you want in your table, the data types of those fields and... that's it! Click the download button and Generator will create a package for you that includes all of the required Javascript, HTML, SQL and server-side code (PHP or .NET/C#). Upload to your server and enjoy your table.
A detailed manual page is available describing every step of the Generator process in detail.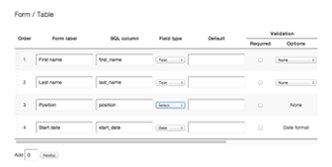 Documentation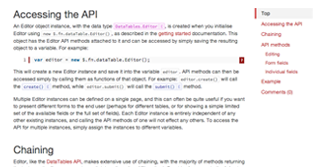 Documentation is king! As developers we know how important it is to have solid, complete and intelligible documentation. Documentation that you can count on and turn to at a moment's notice to get the answers you need. Like DataTables, Editor's documentation is split into two parts:
Styling
Customising the look-and-feel of Editor is important to integrating it fully with your application's branding and the overall interface to provide a seamless design for users to interact with. Editor has pre-built integration options for Bootstrap and jQuery UI. Custom styling can also be quickly added!
Plug-ins
Editor has a range of built-in field types which provide the most commonly used field types for quick and easy development and a range of plug-ins extend those abilities if you want to present more complex controls such as WYSIWYG editors. You can also create custom field types specifically for your application.
PHP and .NET
Editor comes with a set of comprehensive libraries for PHP and .NET that provide everything needed on the server-side to provide the data for your tables and to act on edits by users. These libraries provide data validation, formatting options and easy join tables abilities. In short, everything needed for a complete editable table!
Testimonies
Don't just take our word for it - here is what some of our customers are saying as well:
Mark Elvin - "Best piece of software I have ever used for one of my websites."
@iGlen_ - "DataTables Editor is the best thing to have happened to me today, crud application is a click away"
Rachel Willmer - "Thank you for your amazingly fast response to my support questions."
ON Semiconductor, a Fortune 1000 company - "For our next-generation manufacturing data manager, "Implant Recipe Database", our Computer Integrated Manufacturing team chose SpryMedia's DataTables Editor based on the criteria: Ease of integration, support, and extensibility."